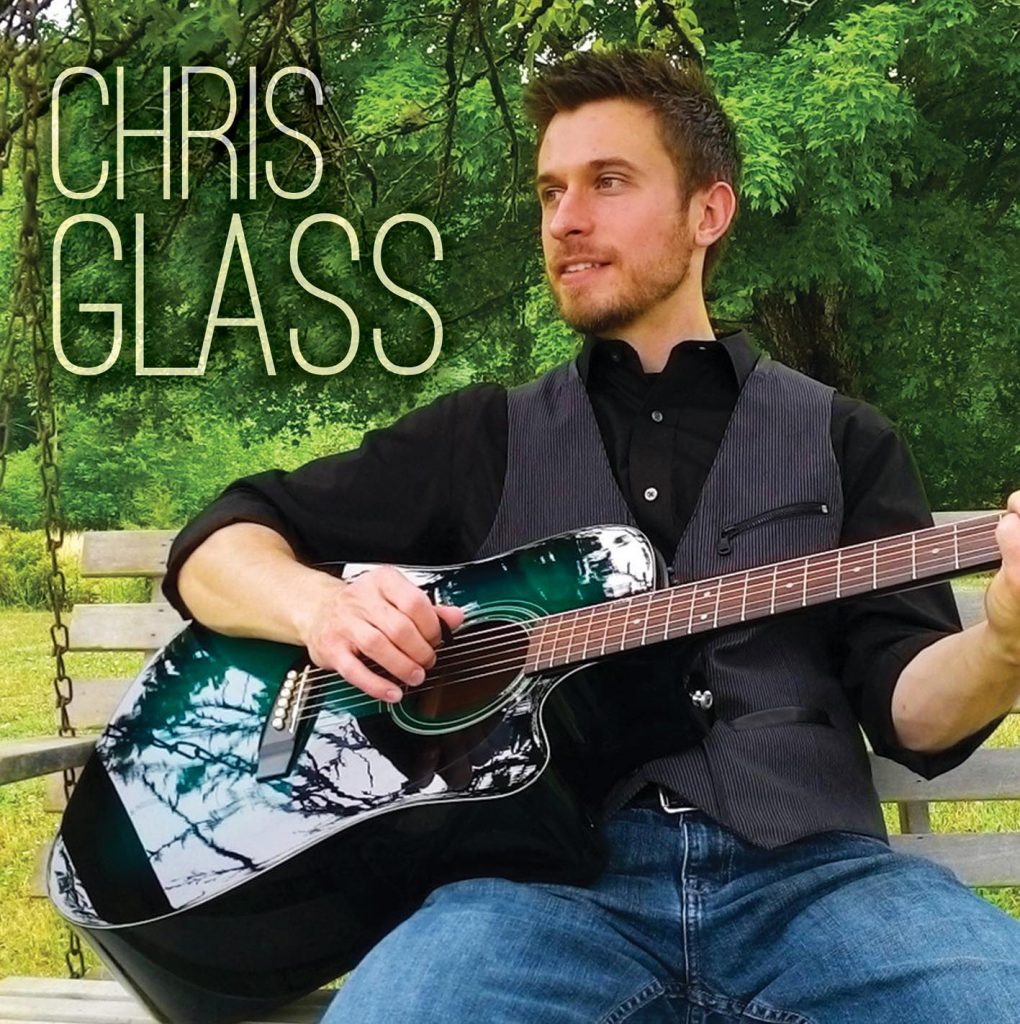 Our first featured project is the self titled solo project by Chris Glass and it's one of my favorites.  For those of you who haven't heard Chris sing with his family, The Sammy Glass Family, you're in for a treat!  Chris is the youngest sibling of the Glass family and is one of the most talented musicians and vocalists I've had the pleasure of working with.
When Chris called me and said he was bringing us his new project, I was so excited! We've been making CDs for the Glass family for years and I always look forward to hearing any recording they make.  After we had talked about Chris' ideas for the project and the graphics, I immediately put the copy Chris gave me in my CD player.  I listened to this cd repeatedly for a whole week (as everyone in the office will attest) – it was that good.  And I've regularly listened to this CD ever since.
Chris wrote most of the songs on this CD and they exemplify his talent as a songwriter. Each song is unique and expresses his love of Jesus.  There are two old hymns on this project which Chris arranged and they are so uplifting.  The last two tracks are instrumental medleys and showcase Chris' mastery of the dobro.  Talent abounds in the Glass family and their talent is on display in this music.  Justin Glass, Chris' brother, plays the drums (and performs the bass on "I Serve A Risen Savior).  Chris' sister, Candice Glass Hinson, plays the mandolin on "Glad You Understand" and "Always The Same."  Gayla Glass, the matriarch of the Glass family, plays the piano and organ on "Always The Same" as well.  Andrew Pealock adds electric guitar on "I Serve A Risen Savior" and "When I Get Out Of This World."  Chris performs the rest of the instruments you hear on this CD: acoustic guitar, electric guitar, slide guitar, dobro, banjo, bass guitar, percussion, keyboards and mandolin.  Chris's style is a mixture of modern acoustic and country mixed with a touch of rock and bluegrass.  My favorite tracks on this cd (and trust me, it was hard to choose): "I Serve A Risen Savior," "Healing Rain," "I Surrender All," and "Always The Same."
If you're looking for a fantastic Christmas gift for a Christian music lover, this is it!  You can purchase this CD by going to Chris' website at: www.chrisglassmusic.com. Chris is also proficient in the studio.  If you need a producer for your new music project or need custom arranged soundtracks performed for your music ministry, Chris is the man to call.
If you're looking for a group to minister at your church or youth group event, you can't do better than The Sammy Glass Family.  They love the Lord and that love comes through in their music.  To contact them, visit their website at: www.sammyglassfamily.com, or call: 423-334-5139.  You can also email them at: sammyglassfamily@aol.com.